An in-depth interview with PinotBio
Can you briefly introduce yourself and tell us about PinotBio?
I am Doo Young Jung, the founder and CEO of PinotBio, Inc. (or PinotBio for short). I am an organic chemist by training but also have intellectual property (IP) and business development (BD) backgrounds—I received a PhD in organic chemistry for studies on stereoselective organic synthesis and did postdoctoral research on organometallic chemistry. As an organic chemist, I was highly interested in developing novel molecules that could be used to treat patients in need. However, after receiving my Ph.D. degree in organic chemistry, I decided to experience other fields that might be helpful in drug discovery and development, so I moved to the Korean Intellectual Properties Office to become a patent examiner. After that, I also worked as Head of BD in a public research institute. All these experiences helped me to start PinotBio and lead its activities.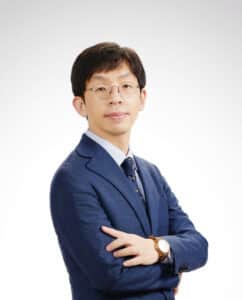 PinotBio is a South Korea based biotech company focusing on the development of novel anticancer therapeutics. Our focus is to develop novel molecules that can overcome cancer resistance/relapse problems. To achieve this goal, we are using a unique approach called "designed polypharmacology."
In this approach, we generate "optimally selective" compounds instead of the "specific" compounds that are usually pursued. At the beginning of cancer chemotherapy, people relied upon very dirty cytotoxic compounds, such as doxorubicin, paclitaxel, and platinum-based compounds. At the time, the goal of medicinal chemistry was to confer some degree of selectivity to improve the safety profiles of such compounds. As a result, the era of targeted anticancer agents has started. This approach has gained huge benefits in terms of safety and quality of life for patients. However, the shortcomings of targeted anticancer agents are often limited efficacy and the development of cancer resistance and relapse.
To overcome these limitations, our hypothesis was that a unique drug candidate, which is both potent and safe, could be identified if it simultaneously inhibited a primary, well-known drug target and a secondary, auxiliary target, which could have a synergistic effect on the primary drug target, without inhibiting other drug targets. We set out to realize this strategy and proved that this concept worked through our phase 1/2 candidate, NTX-301, and our novel ADC platform, Pinot-ADC. To date, we have advanced two small-molecule drug candidates to phase 1 and beyond and licensed out our ADC platform to external partners.
When did we meet for the first time and how long have we been working for you?
PinotBio and Symeres first met at the BioFit conference held at Strasbourg in 2017. We were Bionetix at that time (we changed our name in 2020) and Symeres was Mercachem. At the first meeting, your team introduced us to the CDK-8 project, which later became our FLT3 collaboration project. After a very impressive first meeting, your Asia-Pacific director, Mr. Norimasa Morita, visited our company in early 2018. At that time, we were a very small start-up company not capable of in-licensing your project. However, Nori introduced Mercachem to us so well, and we were in need of a good chemistry partner, that we decided to start a synthesis project together to generate a series of novel thionucleoside compounds. One of these compounds later became NTX-301, which is currently at the phase 1/2 stage for the treatment of resistance/relapsed AML. I am pleased to say that the NTX-301 compound shows excellent safety and efficacy profiles in clinical trials.
Since the successful collaboration on nucleoside compounds, we have been working together on many projects, most notably, the novel camptothecin-based ADC linker–payload project.
Of our two collaboration projects, why does the ADC project have higher priority than the FLT3 project?
As mentioned, our goal is to generate novel therapeutics for resistant/relapsed patients. For the FLT3 project, our goal was to test whether increasing exposure to FLT3 inhibitors might be effective in AML patients who have relapsed after treatment with a first-generation FLT3 inhibitor. To achieve this, we have conjugated FLT3 inhibitors to the CD33 antibody to construct novel AML-targeting ADC candidates.
For the ADC project, even before the project started, we discovered that our pharmacophore (a derivative of camptothecin) showed an excellent anticancer efficacy/safety profile through the dual inhibition of topoisomerase I and survivin. Our goal is to generate a universal ADC platform that can be used to overcome cancer resistance/relapse problems.
We have very high expectations for both projects. However, the progress of the ADC project was much faster. At the same time, the general trend of ADC platform developments demonstrated that our R&D direction—using dual MoA to overcome resistance and using relatively safe payloads to ensure a good therapeutic window—was highly desired by the industry. Thus, we decided to focus only on the ADC project for faster progress. It was a very difficult decision, and personally it's unfortunate that we did not have the chance to test the CD33 antibody–FLT3 inhibitor ADC. However, thanks to this decision and to the contribution from the Symeres team, we are making very good progress in this field, and I am very content with the results.
What does your network of CROs around the ADC project look like? How did you build this up?
To generate ADC molecules for a given antibody, one needs four steps:
(1) design and synthesis of an ADC payload;
(2) design, selection, and synthesis of an appropriate linker;
(3) conjugation of the linker–payload to an antibody;
(4) finally, testing of the resulting compound.
Of these four steps, we are receiving payloads and linker–payloads from Symeres, while the antibody generation and conjugation steps are done in-house at our own laboratory. To test the resulting compounds, the in vitro experiments are done at our in-house lab and at Reaction Biology, and the in vivo studies are performed at several CROs specialized in the in vivo pharmacology testing of ADCs, such as Charles River Laboratories and Wuxi Biologics. We have worked with these companies since the very early stages of PinotBio. We believe that by working with a good, reliable partner for a long time, we can gain additional benefits other than the experimental results; one good example is our constant relationship. When we design a novel compound, we do not need to worry about the feasibility of the synthesis. If the compound can be made, we know that Symeres will undoubtedly find out a good way to make it. We are also grateful that there have not been disputes about IP and publications, which sometimes happens with our other partners. All these benefits resulting from good relationships help our project to progress quickly.
Did Symeres contribute to the PinotBio–Celltrion licensing deal?
The Symeres team led by Dr. Sander van Assema was critical to this licensing deal. We collaborated with the Celltrion team to identify the best candidate linker–payload combination for this licensing deal. At first, the Celltrion team was satisfied with our original linker–payload system. However, the Celltrion team suddenly requested additional compounds as payload candidates, and we needed to generate a novel linker–payload combination that had never been tried before. It was a very challenging project—some of the compounds were very difficult to make. The Symeres team attempted to synthesize them through a well-known process, but the chemistry did not work at all. However, after tremendous efforts, Sander and his team finally discovered the solution and succeeded in scaling up of the process. Thanks to this effort, we were able to successfully close the deal. The details of this story cannot be disclosed right now, but I am hoping to publish a medicinal chemistry paper in collaboration with Symeres about this payload series in due course and hope to disclose all the efforts that has led to our licensing deal in this publication.
What is your future plan?
PinotBio is now preparing for two big challenges. First, we are preparing for an initial public offering (IPO) on the Korean Stock market next year. If successful, this IPO will provide a good driving force for further development of the programs that we have been working on together (NTX-301 thionucleoside program and ADC project).
Second, we need to move our ADC programs to the formal development stage (GMP-grade CMC, GLP-Tox, and even phase I). Previously, we only performed lab-scale experiments to test if our ADC platform worked. However, with plenty of good results to hand, I believe that it is time to move forward. We hope to enjoy our continued collaboration in the future for the scale-up and process development of our ADC linker–payload compounds.
Besides these, we are planning to develop a new payload series for ADCs. Perhaps next year, we will begin our research in this direction to add further diversity to our current platform.
Words for the Symeres team
Thank you so much for all your efforts and excellence in chemistry. As mentioned, your team's contribution was critical to the development of PinotBio, and we hope to maintain the strong and thriving relationship for many years to come.
We would like to thank am Doo Young Jung for his very kind and honest words. If you want to know more about PinotBio, please visit their website.